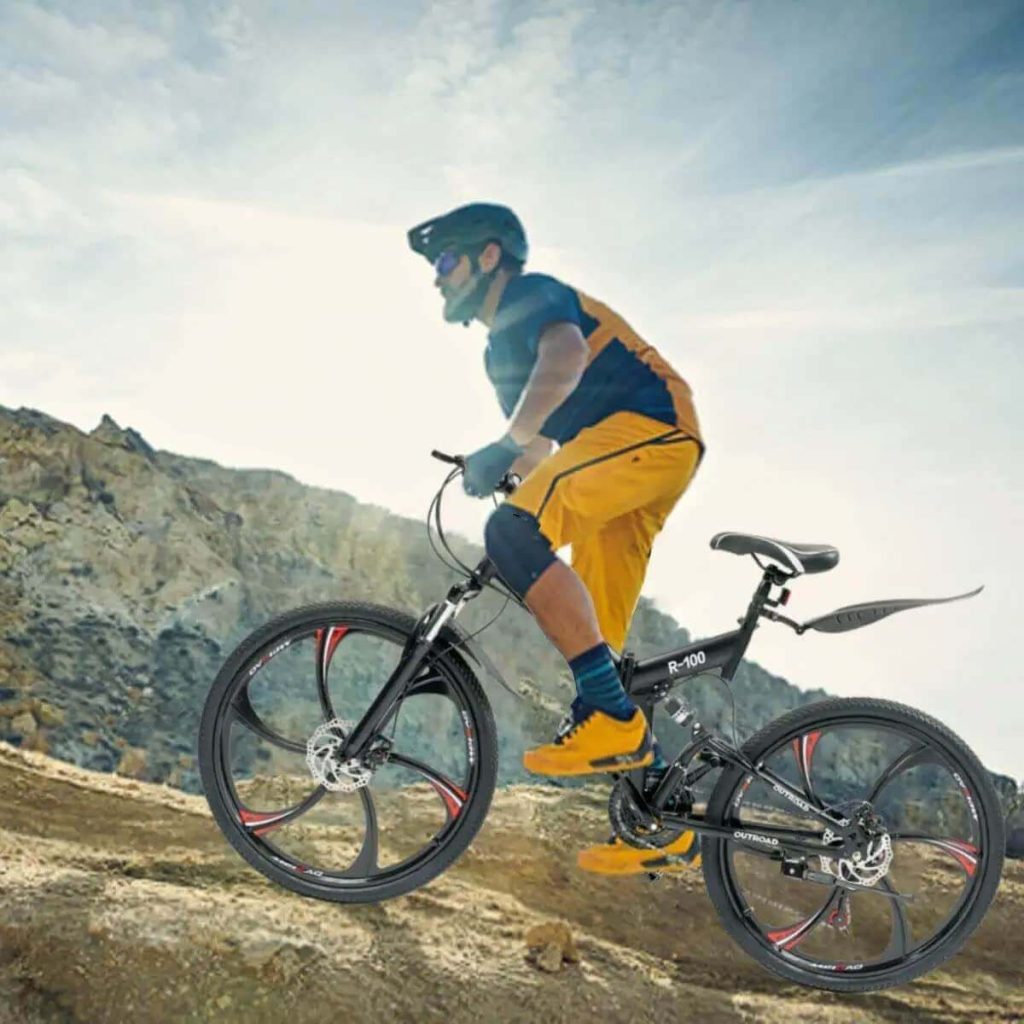 Welcome to our in depth review of the Outroad Mountain Bike, a pinnacle of technical engineering and design in the world of mountain biking.
We are excited to delve into the intricacies of this exceptional 26 Inch folding bike and explore its advanced features from a technical perspective.
Join us as we unveil the technological marvels that make the Outroad Folding Mountain Bike a true standout in its class.
Unleash Your Adventurous Spirit With Outroad Folding Mountain Bike 26 Inch
Folding Mountain Bike:
The Outroad Folding Mountain Bike boasts a robust and visually appealing design.
Its 17-inch high-carbon steel dual suspension frame ensures durability and provides excellent shock absorption, making it suitable for tackling rugged terrains with ease.
The bike is available in three vibrant color options, black, orange, and green, allowing riders to choose a style that matches their personal preferences.
Also See 26 Inch Bikes:
21 Speed Gear System:
With its 21-speed gear system, the Outroad folding bike offers exceptional performance and versatility.
Riders can effortlessly switch gears to adapt to various terrains, enabling them to tackle steep descents and challenging uphill trails with confidence.
The precise gear shifting mechanism ensures smooth transitions, allowing you to maintain momentum and enjoy a truly exhilarating cycling experience.
The 26-inch wheels, coupled with 6-spoke fashion rims, provide stability and enhanced traction, ensuring a safe and fast ride.
26 Inch Wheels:
First and foremost, the 26 inch wheels offer increased stability on various terrains.
Whether you're tackling rocky trails, bumpy surfaces, or uneven paths, these wheels provide a solid foundation, minimizing the impact of rough terrain and allowing you to maintain control and balance throughout your ride.
The larger wheel diameter provides several advantages that contribute to an enhanced riding experience.
The larger contact patch between the tire and the ground ensures enhanced grip, enabling you to tackle both uphill climbs and downhill descents with confidence.
This feature is particularly beneficial when riding on loose or slippery surfaces, as the larger wheels provide superior traction and help prevent skidding.
Dual Disc Brakes:
Safety is paramount when it comes to mountain biking, and the Outroad Folding Mountain Bike excels in this area.
Equipped with front and rear disc brakes, this bike delivers reliable and responsive stopping power, even at high speeds.
The inclusion of quick release mechanisms allows for easy wheel removal, simplifying maintenance and transportation.
With these high performance brakes, riders have complete control over their ride, ensuring precise stopping when and where it's needed.
Adjustable Seat Height:
The Outroad Folding Mountain Bike prioritizes rider comfort and convenience.
The package includes a comfortable seat and free pedals, ensuring that you can start your biking adventure straight away.
The adjustable seat height, brakes, and transmission allow riders to customize their riding experience according to their preferences.
Although the handlebar height is fixed, it still provides a comfortable and ergonomic riding position for individuals ranging in height from 5.3′ to 6.3′.
Black Green Orange Color:
Choose from the captivating black, orange, or green color options and prepare to unleash your adventurous spirit on the trails.
High Carbon Steel Frame:
Its high carbon steel frame, coupled with the 21 speed gear system, ensures a smooth and efficient ride on any terrain.
The inclusion of front and rear disc brakes guarantees optimal safety, granting you full control over your cycling experience.
Additionally, the adjustable seat height, brakes, and transmission allow for personalized comfort, ensuring that riders of varying heights and preferences can enjoy a customized fit.
Easy Assembly:
One of the standout features of the Outroad Folding Mountain Bike is its easy assembly process.
With the bike arriving 95% pre-assembled, you'll spend minimal time and effort completing the remaining 5%.
The package includes all the necessary tools required for assembly and maintenance, making the setup hassle free.
In the event that you encounter any issues or require assistance, the dedicated customer support team is readily available to address your concerns promptly.
Folding Mountain Bike:
The foldable design of the Outroad bike adds to its appeal, allowing for easy storage and transportation.
This feature makes it an excellent choice for those who want to take their mountain biking adventures on the go, whether it's exploring new trails or embarking on a weekend getaway.
From a buyer's perspective, the Outroad Folding Mountain Bike offers exceptional value for money.
Its solid construction, versatile gear system, and reliable braking system make it suitable for riders of various skill levels.
Whether you're a seasoned mountain biker or a beginner, this bike provides a balanced blend of performance, comfort, and convenience.
Conclusion:
In conclusion, the Outroad Mountain Bike is a remarkable choice for outdoor enthusiasts seeking a reliable and versatile folding mountain bike.
With its sturdy construction, impressive gear system, responsive braking, and thoughtful design, this bike caters to the needs of both experienced riders and beginners.
Whether you're conquering challenging terrains or enjoying a leisurely ride through nature, this 26 Inch folding mountain bike will accompany you every step of the way.
Furthermore, the Outroad Folding Mountain Bike's foldable design adds a layer of convenience that sets it apart from traditional mountain bikes.
This feature allows for effortless storage in small spaces, making it an excellent choice for those with limited storage areas or for individuals who frequently travel and wish to bring their bike along on adventures.
The Outroad 26 Inch Folding Mountain Bike stands out as a versatile and high performance option for outdoor enthusiasts.
The Outroad Folding Mountain Bike, with its 26 inch wheel size, is designed to offer riders an optimal balance of stability, manoeuvrability, and versatility.