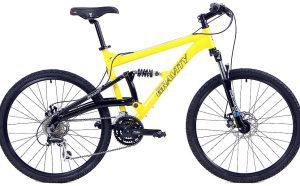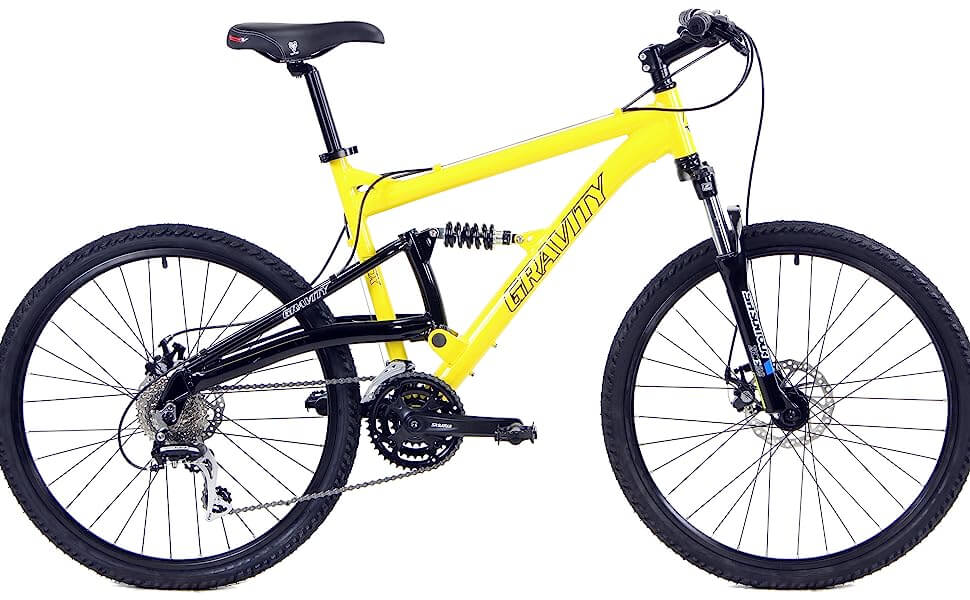 GRAVITY FSX Mountain Bike 1.0 is built with a TIG-welded 6061 aluminum frame, With 24 speeds and a 26-inch wheel size. Weight is approx 27 pounds, offers seamless gear shifting with  SHIMANO ST-EF51 24 SPD EZ Fire Trigger. The Tektro Novela mechanical disc brakes offer a solid grip and rider's safety with Shimano brake levers.
The impressive GRAVITY FSX 1.0 Dual Full Suspension Mountain Bike two-wheeler is packed with cutting-edge features that make it an exceptional choice for mountain biking enthusiasts.
At its core, the GRAVITY FSX mountain bike boasts a sturdy yet lightweight aluminum frame, offering the perfect blend of durability and agility.
Equipped with a dual suspension system, it takes your riding comfort to new heights.
The advanced suspension setup absorbs shocks and bumps encountered on rugged trails, ensuring a smooth and enjoyable ride.
The bike's disc brakes provide reliable and consistent stopping power in any condition.
With 24 speeds to choose from, the GRAVITY FSX 1.0 mountain bike offers unrivalled versatility.
The 26-inch wheel size strikes a perfect balance between maneuverability and stability, allowing you to navigate tight corners with ease while maintaining exceptional traction on rough terrain.
The GRAVITY FSX 1.0 bike weighing in at around 27 pounds when assembled.
This makes it a breeze to transport or carry when necessary, adding convenience to your outdoor adventures.
 Gravity FSX Mountain Bike 1.0 Review 26″
In this in-depth gravity bike review, we'll delve into the Gravity FSX's impressive components, exceptional performance, and overall value, so you can make an informed decision about your next off-road companion.
FAQ's:
How much does a gravity fsx 1.0 mountain bike weigh?
The assembled weight of the GRAVITY FSX 1.0 Dual Full Suspension Mountain Bike is approximately 27 pounds, making it a lightweight option for riders.
What is gravity in mountain biking?
In mountain biking, gravity refers to the force that pulls the rider and the bike downwards. Gravity plays a significant role in downhill riding, as riders rely on it to gain speed and navigate steep descents.
Gravity assists in propelling the bike and rider forward, contributing to the thrilling and fast-paced nature of the sport.
How fast do gravity bikes go?
The speed at which gravity bikes can go depends on various factors, such as the terrain, rider skill level, and bike setup.
Professional downhill mountain bikers can reach incredible speeds, often exceeding 50 miles per hour (80 kilometers per hour) on steep and open descents.
However, it's important to note that speed should always be practiced within safe limits and in appropriate riding environments.
What is a gravity trail?
A gravity trail refers to a specific type of mountain biking trail that is designed to maximize the use of gravity and offer an exhilarating riding experience.
These trails typically feature steep descents, jumps, drops, berms, and other technical features that allow riders to harness the force of gravity and gain speed.
Gravity trails are popular among downhill mountain bikers who enjoy the thrill of high-speed descents and challenging obstacles.
Also See:
Gravity Fsx 1.0 Features:
Assembled Weight: Approximately 27 lbs
Frame: Oversized Bearing CantiBeam Link SinglePivot, Custom Formed TIG Welded 6061
Aluminum Front Triangle with Hydroformed tubes. Rear Triangle with replaceable rear derailleur hanger.
Suspension Fork: SunTour long travel, preload adjustable
Rear Suspension: KS CoilOver with adjustable preload attached to Down Tube
Crankset: SunTour, aluminum arms, Powershift Rings 22/32/42T
Bottom Bracket: Sealed Cartridge Unit, Square taper, 68/122mm
Pedals: Beartrap MTB with metal cage
Front Derailleur: Shimano FD-M190 (Some Updated to MicroShift+Mezzo At No Extra Cost)
Rear Derailleur: Shimano Acera (Some Updated to MicroShift+Mezzo At No Extra Cost)
Shifters: SHIMANO ST-EF51 24 SPD, EZ Fire Trigger
Cassette/Freewheel: 8 speed 11-34T or 32T (No Choice)
Chain: Narrow 8 Speed
Hubs: Formula Forged Aluminum Disc w/Q.R. and debris seal ball bearings
Spokes: Stainless Steel
Rims: Maddux DX221, double wall 6061 T6 aluminum, Black finish
Tires: MultiTread 26×2.1 inch
Brakes: Tektro Novela mechanical disc 160mm rotors
Brake Levers: Shimano ST-EF51
Headset: Cane Creek Threadless 1.125 inch, contact sealed ball bearing
Handlebar: 20° rise Aluminum
Stem: Comp Aluminum Threadless for 1.125 inch
Tape/Grip: Kraton Black dual compound
Saddle: WTB Speed V Sport SE with LoveChannel
Seat Post: Aluminum alloy MicroAdjust, 27.2mm
Seat Clamp: Alloy Q.R.
Durable TIG-welded 6061 Aluminum Frame:
Crafted with a custom-formed TIG-welded 6061 aluminum frame, the Gravity bike is built to withstand the demands of rigorous off-road riding.
The frame's hydro formed tubes enhance strength and structural integrity, ensuring long-lasting performance.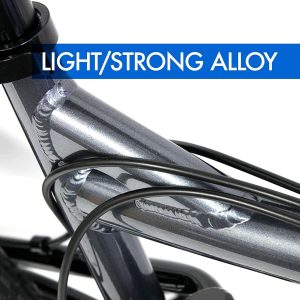 Additionally, the replaceable rear derailleur hanger provides added convenience, allowing for easy replacement in the event of accidental damage.
Expertly designed components, such as the SunTour crankset, sealed cartridge bottom bracket, and Beartrap MTB pedals, contribute to the bike's overall durability and reliability.
These high-quality parts are built to withstand the rigors of intense trail riding, ensuring a long lifespan for your Gravity bike.
Its oversized bearing CantiBeam Link SinglePivot front triangle, along with hydroformed tubes, guarantees enhanced stability and maneuverability.
The rear triangle, equipped with a replaceable rear derailleur hanger, provides durability and versatility for those unpredictable off-road journeys.
Gravity Fsx 1.0 Bike Sizes:
Please check out the sizing guide.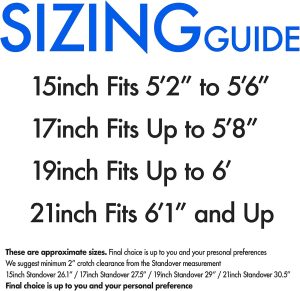 Adjustable Suspension System:
One of the standout features of the Gravity FSX is its adjustable suspension system, present both at the front and rear.
The SunTour long travel suspension fork, with preload adjustability, effortlessly absorbs shocks and bumps, ensuring a comfortable ride even on uneven terrain.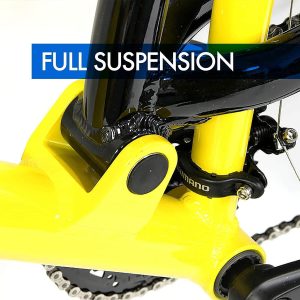 The KS CoilOver rear suspension, also adjustable, complements the front fork, delivering optimal balance and responsiveness.
With this bike, you'll effortlessly glide over obstacles, maintaining control and confidence throughout your ride.
Shimano Gear Shifting:
Equipped with Shimano shifters, specifically the SHIMANO ST-EF51 24 SPD EZ Fire Trigger, the Gravity FSX guarantees seamless gear shifting and effortless control.
These easy-to-use shifters provide precise and reliable changes across the 24-speed range, allowing you to adapt to different trail conditions and conquer any ascent or descent with ease.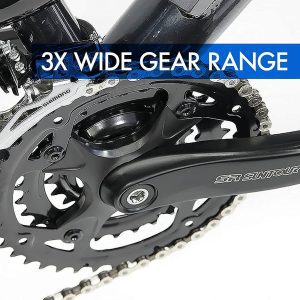 Whether you're climbing steep hills or speeding down exhilarating descents, the bike's Shimano shifters will keep you in complete command.
Mechanical Disc Brakes:
The Gravity 1.0 prioritizes rider safety with its Tektro Novela mechanical disc brakes.
These brakes deliver consistent stopping power, even in wet or muddy conditions, giving you the confidence to tackle steep descents and navigate tight corners with precision.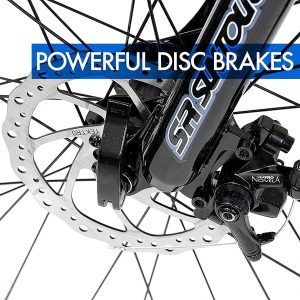 The Shimano ST-EF51 brake levers offer a comfortable grip and easy reach, allowing for swift and controlled braking whenever necessary.
Both the front and rear disc brakes offer exceptional stopping power and consistent performance in all weather conditions.
You can confidently navigate treacherous trails, knowing that the Tektro Novela mechanical disc brakes, coupled with 160mm rotors, will bring you to a halt promptly and securely.
Also See: Recreational Cycling for Senior Citizens
Durable Components:
The Gravity bike is equipped with a range of reliable components that ensure both durability and optimal performance.
The strong and light double-wall rims, coupled with quick-release wheels at the front and rear, enhance agility and facilitate swift manoeuvres.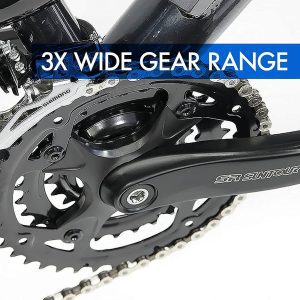 The Formula Forged Aluminum Disc hubs, featuring debris seal ball bearings, provide smooth and efficient rolling, further enhancing the bike's overall performance and reliability.
Approx 27 lbs Weight:
The Gravity FSX Mountain Bike Weighs approx 27 lbs.
This lightweight design allows for quick and nimble movements, enabling you to navigate tight corners, switchbacks, and technical sections with ease.
The reduced weight minimizes the bike's rotational inertia, making it more responsive to your steering inputs and enhancing your overall control and confidence while riding.
Superior Riding Comfort:
The Gravity FSX Mountain Bike offers a host of features designed to maximize rider comfort.
The WTB Speed V Sport SE saddle with LoveChannel ensures a comfortable seating experience, even during long and demanding rides.
The aluminum alloy MicroAdjust seat post, with a diameter of 27.2mm, allows for precise adjustments to find your ideal riding position.
Additionally, the Kraton Black dual compound grips provide excellent grip and minimize hand fatigue, ensuring a secure and comfortable hold throughout your adventures.
Assembly and Tuning:
It's worth noting that the Gravity FSX requires assembly and tuning before hitting the trails.
While this may initially seem daunting, it allows you to familiarize yourself with the bike's components and make personalized adjustments to suit your riding preferences.
Taking the time to properly assemble and tune the bike will ensure optimal performance and safety, providing you with a customized riding experience tailored to your needs.
Outstanding Performance:
With its 24-speed Shimano drivetrain, the Gravity FSX allows you to conquer a wide range of terrains with ease.
Whether you're tackling steep inclines or navigating technical descents, the broad gear range ensures you're always in the right gear for maximum efficiency and power.
The precise shifting of the Shimano FD-M190 front derailleur and Shimano Acera rear derailleur, or the optional MicroShift+Mezzo upgrade, guarantees smooth transitions between gears, providing a seamless and enjoyable riding experience.
The multi-tread 26×2.1-inch tires offer excellent traction and control on different surfaces, allowing you to confidently maneuver through loose gravel, muddy trails, or rocky paths.
Coupled with the Maddux DX221 double-wall rims, these tires enhance the bike's stability and durability, ensuring reliability on every ride.
Conclusion:
In summary, the Gravity FSX Mountain Bike 1.0 delivers an exceptional off-road experience for mountain biking enthusiasts of all skill levels.
From its robust aluminum frame to its adjustable suspension system, reliable Shimano shifters, and powerful disc brakes, every aspect of this bike is meticulously designed for performance and durability.
While assembly and tuning are required, this allows you to customize the bike to your preferences and ensures optimal performance on the trails.
With the Gravity FSX 1.0 mtb as your trusted companion, you'll be able to conquer any terrain with confidence and enjoy exhilarating mountain biking adventures like never before.
Upgrade your riding experience today and unlock the true potential of off-road exploration with the Gravity FSX 1.0 Mountain Bike.
Don't miss out on the opportunity to elevate your mountain biking adventures to new heights with the Gravity FSX Mountain Bike.
We hope you like our review on the gravity fsx 1.0 full suspension mountain bike. By clicking the below link you can check gravity fsx 29 Ltd also.
Also Check: