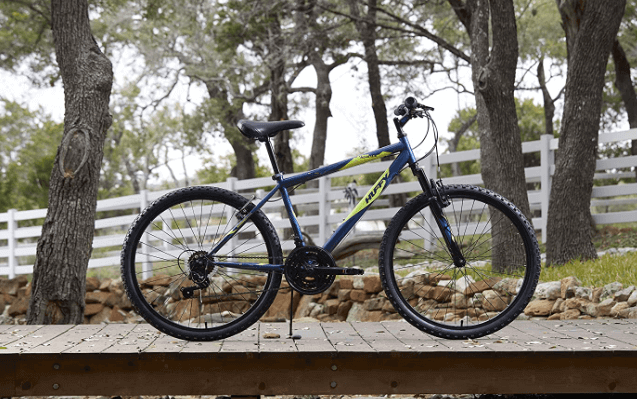 Are you an adventure enthusiast looking for a reliable and high-performance mountain bike? Look no further than the Huffy Hardtail Mountain Bike.
The Huffy Stone Mountain mountain bike is a true powerhouse, designed to impress both in looks and performance.
Also Read:
Its striking Denim Blue gloss finish, 21 speeds, and front suspension make it the perfect hardtail mountain bike for action-packed adventures.
With a limited lifetime warranty, the steel hardtail frame ensures solid performance and efficiently transfers your pedal power, providing strong acceleration on straight surfaces and uphill climbs.
This 26-inch model is ideal for riders above 5 feet, and the alloy quick release allows for easy seat height adjustment, ensuring a personalized and comfortable riding experience.
In this Huffy Hardtail Mountain Bike review, we'll explore its features, performance, and why it's an ideal choice for riders aged 13 and up. Let's dive in!
Huffy Hardtail Mountain Bike Will Not Cost You Much!
ATB Saddle With Premium Padding:
The premium padded ATB saddle with stitched sides offers long-lasting quality and comfort during your rides.
Adjusting the seat height is a breeze, thanks to the alloy quick-release mechanism.
The ATB saddle with premium padding, delivering exceptional comfort for long rides.
Its stitched sides ensure durability, allowing you to enjoy lasting comfort even on the most challenging trails.
Say goodbye to discomfort and hello to hours of enjoyable riding.
Front Suspension:
Encounter bumps and dips with ease, thanks to the suspension fork on the Huffy Stone Mountain.
This essential feature absorbs shocks and vibrations, smoothing out your ride and enhancing overall comfort and control.
Feel confident as you navigate through uneven terrain, knowing that the front wheel remains planted for improved handling.
21-Speed Shimano Drivetrain:
The Huffy Mountain Bike offers an impressive 21 speeds to tackle various terrains.
The indexed Shimano TZ-31 rear derailleur, combined with the micro-shift twist shifter, allows you to switch gears effortlessly.
The Huffy Stone Mountain is equipped with a reliable and smooth-shifting Shimano 21-speed drivetrain.
Whether you're conquering steep uphill climbs, enjoying thrilling downhill rides, or craving pure acceleration, this bike delivers on-demand speed and performance.
The removable rear derailleur guard ensures consistent gear operation, providing a worry-free riding experience.
Shift with confidence, knowing that you have the power and control to conquer any challenge that comes your way.
Adjustable Seat Height:
No tools needed! With the quick-release seat post lever, adjusting the seat height on the Huffy Stone Mountain is a breeze.
Achieve the perfect riding position in seconds, ensuring optimal comfort and efficiency as you tackle various trails and riding conditions.
Twist Shifter:
The Huffy Stone Mountain features convenient twist shifters that offer quick and reliable gear changes.
Adapt to the ever-changing terrain on the trail seamlessly, thanks to the smooth operation of the twist shifters.
Enjoy effortless shifting and maintain complete control over your speed and cadence as you navigate through different riding environments.
Knobby Tires:
Equipped with 26″ X 1.95″ knobby tires, the Huffy Mountain Bike effortlessly tears into dirt bike paths, providing excellent traction and control.
The linear pull hand brakes deliver consistent stopping action, ensuring your safety even in challenging conditions.
No matter the surface dirt, gravel, or pavement, the knobby tires on the Huffy Stone Mountain provide excellent traction.
Designed to excel in wet and dry conditions, these tires ensure optimal grip, giving you the confidence to conquer any trail.
Experience stability and control as you power through each turn and tackle challenging off-road paths.
Lightweight Alloy Wheels:
The Huffy Stone Mountain boasts lightweight alloy wheels in an elegant matte black finish.
These wheels not only enhance the bike's overall performance but also blend seamlessly with its design.
Enjoy improved agility and responsiveness, allowing you to maneuver with precision and confidence on the trail.
Front and Rear Steel Linear Pull Handbrakes:
Safety is paramount, and the Huffy Stone Mountain doesn't compromise when it comes to braking performance.
With front and rear steel linear pull handbrakes, you can rely on consistent and dependable stopping power whenever you need it.
Whether you're navigating steep descents or coming to a sudden stop, these brakes ensure your safety and provide peace of mind.
Slight Rise Handlebar:
Ride in comfort with the slight-rise handlebar of the Huffy Stone Mountain. This ergonomic design minimizes strain on your back and shoulders, allowing for a more relaxed and enjoyable riding experience.
Maintain an upright riding position that reduces stress on your body, enabling you to ride for longer periods without discomfort.
With minimized strain, you can fully immerse yourself in the joy of the trail while maintaining optimal control and maneuverability.
Steel Frame & Suspension Fork:
Built to withstand rugged terrain, the Huffy Mountain Bike features a durable steel frame backed by a limited lifetime warranty, as stated in the owner's manual.
The suspension fork ensures a smoother ride by handling bumps and dips with ease. No matter how rough the trail gets, this bike will keep you comfortable and confident.
Comfort and Ergonomics
The Huffy Mountain Bike features a slight-rise handlebar, promoting an upright riding position that minimizes strain on your back and shoulders.
The ATB-type resin pedals on the 3-piece crank offer a responsive feel, maximizing your power transfer.
The Kraton grips remain comfortable to the touch, allowing you to maintain a firm hold on the handlebars.
The alloy wheels in matte black not only look stylish but also enhance the bike's overall performance.
The kickstand included with the bike provides convenient storage when you're not riding.
Easy Assembly:
One of the standout features of the Huffy Mountain Bike is its user-friendly assembly process.
With a given an assembly tutorial video on the product page, you can follow step-by-step instructions from the product manual.
The package includes all the tools you need, making the assembly a breeze.
Simply install the front wheel, handlebar, seat, and pedals, and then adjust the brakes. In no time, you'll be ready to hit the trails.
Best Budget Huffy Mountain Bike:
This huffy stone hardtail bike is one of the best budget bikes available in the market.
Conclusion:
The Huffy Stone Mountain mountain bike is the perfect companion for riders seeking both style and performance.
Its striking Denim Blue gloss finish, 21 speeds, front suspension, and durable steel hardtail frame make it an unstoppable force on the trails.
With the comfort-focused features like the ATB saddle with premium padding, adjustable seat height, and slight-rise handlebar, you'll experience unmatched comfort during your adventures.
The Shimano 21-speed drivetrain and twist shifters provide seamless gear changes, allowing you to conquer uphill climbs, cruise through flat trails, and adapt to any terrain effortlessly.
The knobby tires offer superior traction in various conditions, while the lightweight alloy wheels enhance agility and responsiveness.
With the added safety of front and rear steel linear pull handbrakes, you can ride with confidence, knowing you have reliable stopping power at your fingertips.
The front suspension ensures a smoother and more controlled ride, absorbing bumps and keeping your front wheel grounded for enhanced comfort and handling.
Unleash your trail-blazing potential with the Huffy Hardtail Stone Mountain bike and get ready to head outdoors and experience the thrill of riding with Huffy Bike.