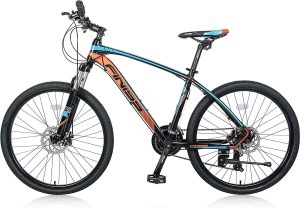 Welcome to our in-depth review of the Merax FT323 Mountain Bike, an excellent choice for those seeking a versatile and budget-friendly entry-level mountain bike.
With its impressive features, including front suspension, Shimano 24-speed derailleurs, and dual disc brakes, this bike is designed to provide a smooth and controlled riding experience.
Also See
Merax FT323 Mountain Bike With Front Suspension & Aluminum Frame
Let's dive into the details and explore why the Merax FT323 is a top pick for both male and female riders.
17″ Aluminium Frame Design:
The Merax FT323 boasts a sturdy aluminum frame, offering a perfect balance between durability and lightweight design.
The 17″ frame size ensures a comfortable fit for most riders. Its front suspension system effectively absorbs bumps and provides enhanced control, allowing for a smooth and enjoyable ride across various terrains.
Shimano EF500-3/8 shifters & Shimano FD-TY500 Front Derailleur:
Equipped with Shimano EF500-3/8 shifters and a Shimano FD-TY500 front derailleur, the Merax FT323 ensures reliable and smooth gear shifting.
24 Speed Options:
With 24-speed options, riders can effortlessly adapt to different riding conditions, whether tackling steep climbs or cruising along flat trails. The precise and responsive gear changes ensure a seamless and efficient riding experience.
Disk Brakes Enhanced Stopping Power:
Safety is paramount when it comes to mountain biking, and the Merax FT323 delivers in this aspect with its dual disc brakes.
These brakes offer superior stopping power, allowing riders to confidently navigate challenging descents and sudden obstacles.
With these reliable brakes, you can ride with peace of mind, knowing you can stop swiftly when needed.
330 lbs Weight Capacity:
Despite its affordable price point, the Merax FT323 doesn't compromise on durability. The bike is designed to withstand the demands of off-road adventures, with a weight capacity of up to 330 lbs.
Whether you're a male or female rider, this mountain bike can accommodate various body types and provide a stable and secure ride.
Warranty & Customer Support:
Merax stands behind the quality of their products, and the FT323 Mountain Bike is backed by a 1-year warranty.
This warranty offers reassurance to customers, ensuring any potential issues will be promptly addressed.
Additionally, Merax has a responsive customer support team, ready to assist with any inquiries or concerns that may arise.
Conclusion:
In conclusion, the Merax FT323 Mountain Bike offers outstanding value for its price, making it an ideal choice for beginners and budget-conscious riders.
Its front suspension, reliable Shimano 24-speed gears, dual disc brakes, and robust construction make it a reliable companion for various riding needs.
With a weight capacity of 330 lbs, this bike caters to both male and female riders, ensuring a comfortable and enjoyable experience for all.
Experience the thrill of off-road biking with the Merax FT323 and embark on your adventures with confidence.