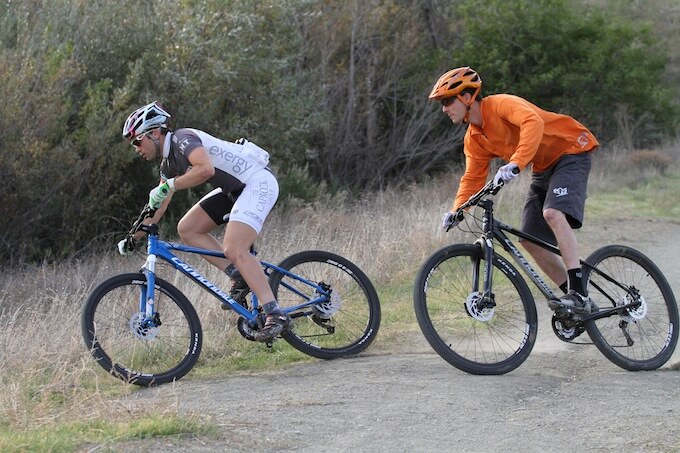 Exploring the Features and Benefits of 26er Mountain Bikes
If you're an avid cyclist seeking the perfect companion for your off-road adventures, look no further.
We present to you the six best 26 inch mountain bike, carefully selected to provide exceptional performance, comfort, and versatility on any trail.
These bikes have been thoroughly tested and reviewed, emerging as the frontrunners in the world of 26″ mountain bikes.
From their advanced suspension systems to their reliable braking capabilities, each bike on this list is a testament to quality and craftsmanship. Join us as we explore the features and benefits of these remarkable machines.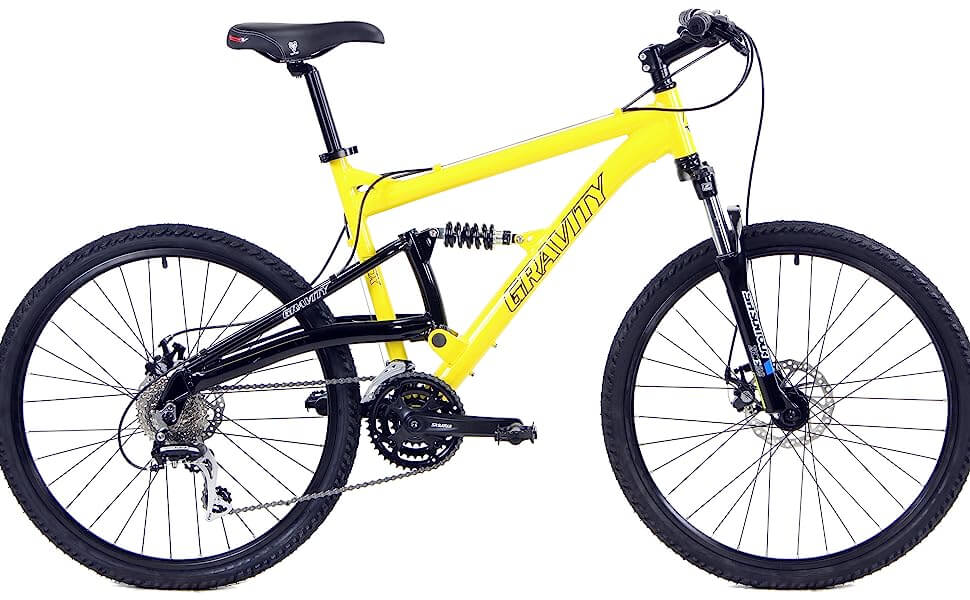 The Gravity FSX Mountain Bike is a high-performance off-road bicycle designed to tackle challenging trails and rugged terrains.
Its frame features an oversized bearing CantiBeam Link SinglePivot, custom formed using TIG welded 6061 aluminum for exceptional strength and durability.
The hydroformed tubes add to its robust construction, while the rear triangle is equipped with a replaceable rear derailleur hanger for easy maintenance.
For superior suspension, the bike is equipped with a SunTour long travel fork that offers preload adjustability, ensuring a smooth and controlled ride over rough terrain.
The rear suspension consists of a KS CoilOver with adjustable preload, which is attached to the down tube for optimal performance.
The Gravity FSX Mountain Bike is equipped with a reliable drivetrain system. The crankset features SunTour aluminum arms and Powershift rings with a 22/32/42T configuration, while the bottom bracket utilizes a sealed cartridge unit with a square taper (68/122mm).
The front derailleur is a Shimano FD-M190, although some models have been updated to MicroShift+Mezzo at no additional cost.
The rear derailleur is a Shimano Acera, which may also be substituted with the MicroShift+Mezzo model. The shifters are Shimano ST-EF51 24 SPD EZ Fire Trigger, providing precise and effortless gear changes.
To ensure reliable braking power, the Gravity FSX Mountain Bike is equipped with Tektro Novela mechanical disc brakes with 160mm rotors.
The brake levers are Shimano ST-EF51, offering responsive control. The bike features Formula forged aluminum disc hubs with quick-release mechanisms and debris seal ball bearings, paired with stainless steel spokes.
The rims are Maddux DX221, made from double-wall 6061 T6 aluminum and finished in black.
The tires on the Gravity FSX Mountain Bike are MultiTread 26×2.1 inch, designed to provide a balance of traction and speed on various surfaces.
The headset is a Cane Creek Threadless 1.125 inch model with contact sealed ball bearings, ensuring smooth steering.
The handlebar has a 20° rise and is made of aluminum, while the stem is a Comp Aluminum Threadless model for a secure connection. The bike features Kraton Black dual compound grips for comfortable handling.
The saddle on the Gravity FSX Mountain Bike is a WTB Speed V Sport SE with a LoveChannel, offering support and comfort during long rides.
The seat post is made of aluminum alloy and is micro-adjustable, with a diameter of 27.2mm. The seat clamp is an alloy quick-release model for easy height adjustments.
Overall, the Gravity FSX Mountain Bike combines a sturdy frame, efficient suspension, reliable drivetrain components, and powerful brakes to deliver a thrilling off-road riding experience.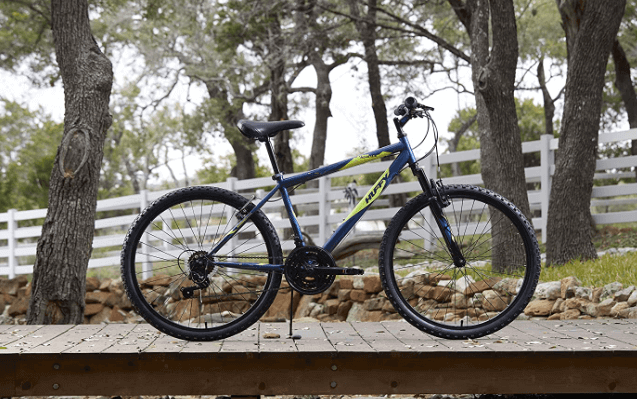 The Huffy Hardtail Mountain Bike, featuring a Denim Blue frame, is the perfect companion for outdoor adventures and trail conquering.
Designed for riders aged 13 and up, with a minimum height requirement of 5 feet, this bike boasts a durable steel frame backed by a limited lifetime warranty, ensuring long-lasting performance.
The suspension fork absorbs bumps and dips, providing a smoother ride on rough terrain.
Equipped with a 21-speed drivetrain, the Huffy Stone Mountain offers versatility for uphill climbs, downhill descents, and quick acceleration.
The indexed Shimano TZ-31 rear derailleur, in combination with the micro-shift twist shifter, enables on-demand gear changes. To ensure consistent gear operation, a removable rear derailleur guard is included.
The 26″ X 1.95″ knobby tires excel on dirt bike paths, providing excellent traction and control. The linear pull hand brakes offer reliable stopping power, ensuring rider safety.
The premium padded ATB saddle is designed with stitched sides for durability and comfort. Adjusting the seat height is quick and easy thanks to the alloy quick-release mechanism.
The Huffy Hardtail Mountain Bike features a slight-rise handlebar that promotes an upright riding position, minimizing strain on the back and shoulders.
The ATB-type resin pedals on the 3-piece crank deliver a responsive feel, while the Kraton grips remain comfortable to the touch.
The alloy wheels come in a sleek matte black finish, and a kickstand is included for added convenience.
Assembly is made easy with the included tools and a comprehensive tutorial video located alongside the product images.
Simply follow the steps in the product manual to install the front wheel, handlebar, seat, and pedals. Additionally, adjusting the brakes ensures optimal performance.
Head outdoors on your Huffy mountain bike and experience the joy of riding wherever you choose to explore.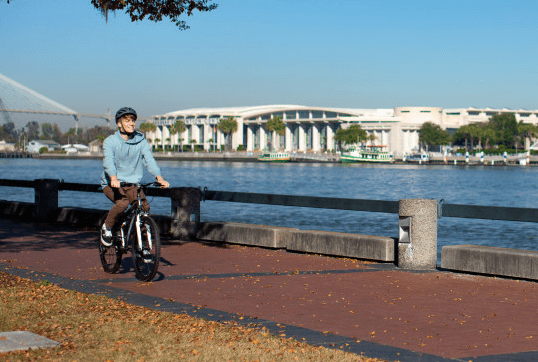 Introducing the Dynacraft Slick Rock Trails 26″ Bike, the ultimate choice for riders who crave off-road adventures.
With its rugged design and full suspension frame, this bike is built to tackle any terrain with ease.
The grey deluxe paint finish, complemented by matte black, white, and orange details, adds a touch of style to its robust appearance.
Equipped with a 21-speed index derailleur and grip shifters, the Dynacraft Slick Rock Trails bike ensures smooth and effortless gear transitions, making even the steepest inclines feel manageable.
The front and rear v-brakes provide reliable and secure stops, allowing riders to descend with confidence and control.
Setting up and adjusting the bike is a breeze, thanks to the quick-release seat post feature. Riders can easily find their ideal riding position in no time.
The padded saddle offers exceptional comfort, ensuring a pleasant ride even during long journeys. Plus, the solid steel kickstand allows for convenient parking and resting of the bike whenever needed.
The Dynacraft Slick Rock Trails 26″ Bike promises endless hours of enjoyment on the trail and beyond.
Whether riders are exploring rugged terrains or embarking on new adventures, this bike is designed to deliver exceptional performance and fun-filled experiences.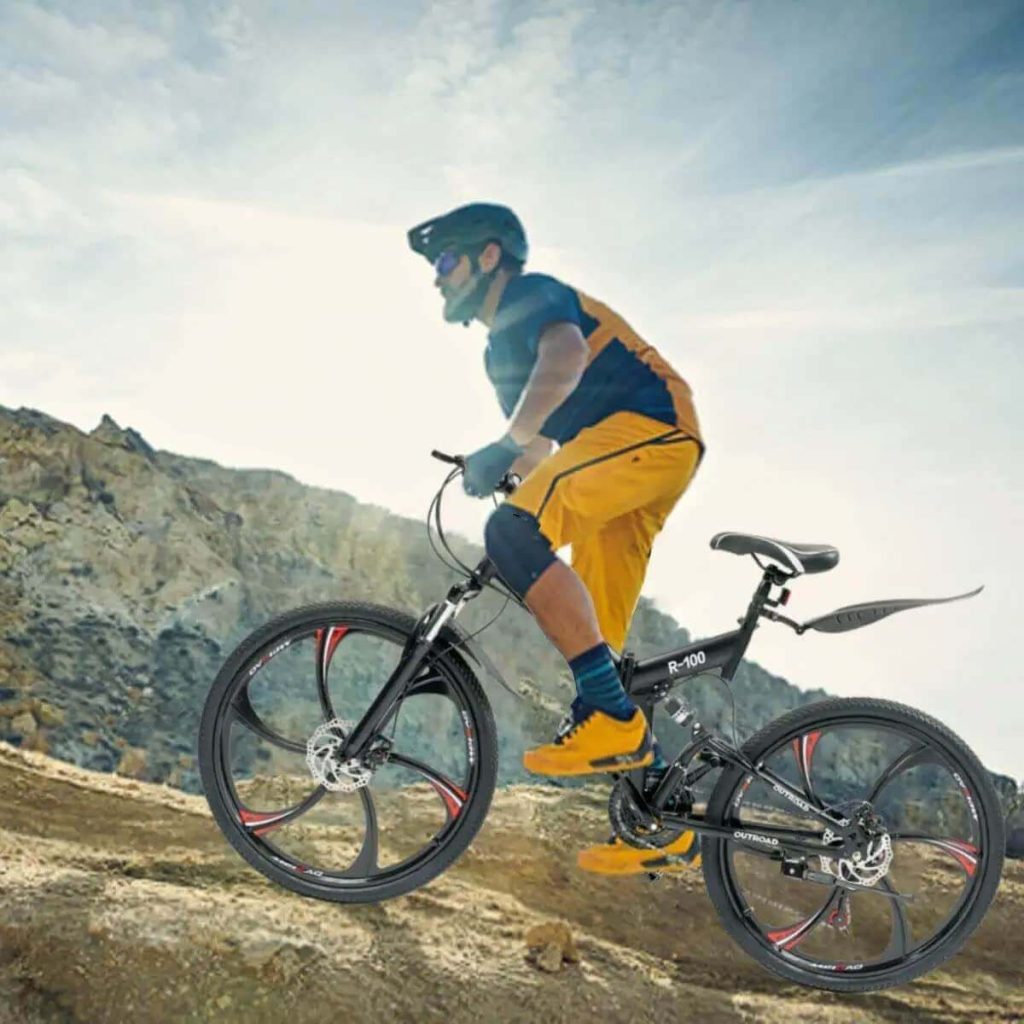 Introducing the Outroad 26″ Folding Mountain Bike, the perfect choice for riders seeking convenience and versatility. This folding bike comes with a host of features designed to enhance your riding experience.
With its 26-inch wheels and 17-inch frame, the Outroad Folding Mountain Bike strikes a balance between agility and stability.
The 6-spoke fashion rims not only add a stylish touch but also provide enhanced safety and speed. You can easily adjust the seat height, brakes, and transmission to suit your preferences, following the instructions provided. (Please note that the handlebar height is fixed).
Built with a high carbon steel dual suspension frame, this folding mountain bike ensures durability and smooth rides on various terrains.
The 21-speed gears allow you to swiftly switch between different speeds with your fingertips, offering an exhilarating cycling experience.
Whether you're racing against the wind or conquering challenging trails, this bike adapts to your need for speed.
Equipped with a great braking system, the Outroad Folding Mountain Bike features front and rear disc brakes with quick releases.
These high-performance brakes provide reliable stopping power, ensuring your safety even at high speeds and on steep slopes.
You'll have full control over when and where to stop, boosting your confidence while riding.
Assembly is a breeze with the Outroad Folding Mountain Bike. The package includes free pedals and a comfortable seat, and the necessary tools for assembly and maintenance are provided.
Simply follow the instructions and assemble the remaining 5% of the bike yourself. If you encounter any issues, don't hesitate to contact our customer support team.
The Outroad 26″ Folding Mountain Bike is designed for riders weighing up to 300 lbs and ranging in height from 5.3′ to 6.3′.
Its foldable design allows for easy storage and transportation, making it ideal for urban commuting, weekend getaways, or outdoor adventures.
Experience the convenience and versatility of the Outroad Folding Mountain Bike, and enjoy the freedom to ride wherever you desire.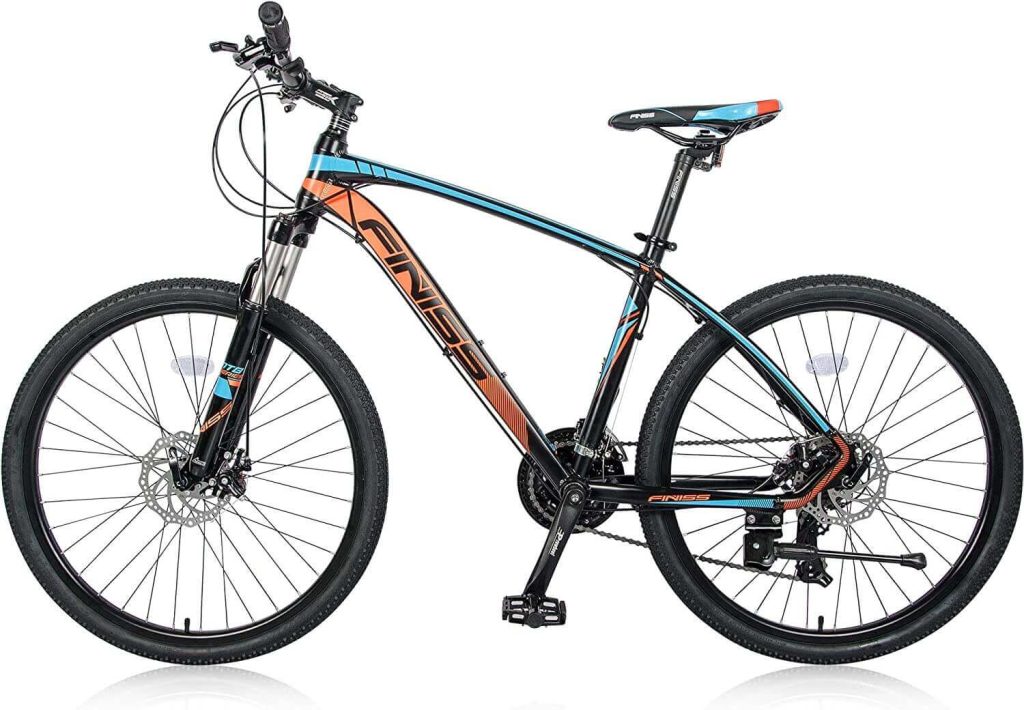 Introducing the Merax FT323 Mountain Bike, a fully featured and economical entry-level bike designed to meet all your riding needs.
This bike is built with a focus on performance, reliability, and control, making it perfect for both adult women and men.
The front suspension design of the Merax FT323 smooths out bumps and increases control, ensuring a fluid and enjoyable riding experience.
It enhances your ability to tackle various terrains with ease, providing a comfortable ride on rough trails.
Equipped with Shimano 24-speed derailleurs and shifters, this bike offers reliable and smooth gear shifting.
You can effortlessly switch between gears to adapt to different riding conditions, whether you're climbing steep inclines or speeding downhill.
The Shimano FD-TY500 front derailleur and Shimano RD-TY300 rear derailleur work in harmony to deliver efficient and precise gear changes.
To ensure safety and stopping power, the Merax FT323 Mountain Bike features dual disc brakes.
These brakes provide enhanced braking performance and reliable stopping power in different weather conditions and terrains, allowing you to ride with confidence.
Constructed with an aluminum frame, this mountain bike strikes a balance between durability and lightweight design. With a frame size of 17 inches, it offers a comfortable fit for riders of various heights.
The Merax FT323 Mountain Bike has a weight capacity of up to 330 lbs, ensuring stability and support for riders of different sizes.
It weighs 40 lbs itself and comes with a 1-year warranty, providing peace of mind and assurance of its quality.
The bike is equipped with a 1/23/3224T(ED)*34T(ED)*42T(ED)*170 aluminum crank, 9/16″ pedals, and has a total weight capacity of 330 lbs.
The product weight is 40 lbs, while the shipping weight is 55 lbs.
The shipping package size is approximately 54″ x 29″ x 8″ (L x W x H), ensuring safe delivery.
Experience the versatility and reliability of the Merax FT323 Mountain Bike, designed to provide an enjoyable and capable ride for riders of all levels.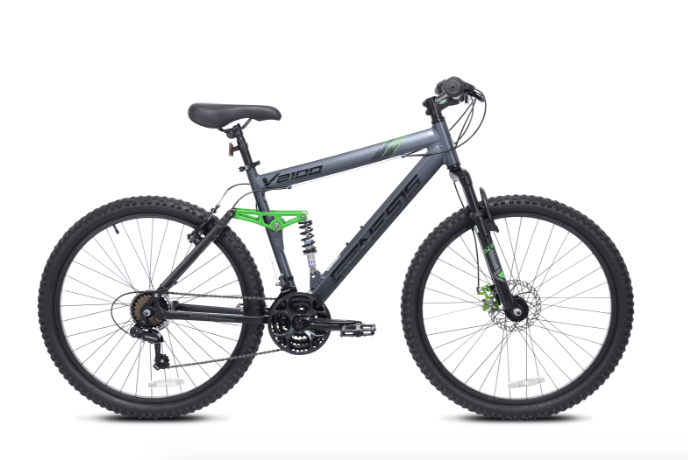 Introducing the Genesis V2100 Mountain Bike, a 26″ dual suspension bike that delivers a comfortable and smooth riding experience. Designed for men, this bike is built to handle off-road trails with ease while providing excellent traction.
The dual-suspension frame of the Genesis V2100 ensures a comfortable ride, absorbing bumps and shocks along the way.
The knobby tires offer reliable grip and traction on various terrains, making it ideal for adventurous riders. Whether you're cruising on the road or tackling rough trails, this bike provides a smooth and enjoyable experience.
With its Shimano gearing system, shifting between gears is effortless, allowing you to conquer hills with less effort.
The front and rear suspension forks further enhance your riding comfort by minimizing the impact of uneven surfaces.
You can ride confidently, knowing that the Genesis V2100 will handle bumps and rough terrain with ease.
For reliable and safe braking, this bike features a front disc brake and a rear V-brake. The combination of these brakes ensures responsive stopping power and control, even during sudden braking situations.
The durable tires provide a strong grip on rugged paths, adding to the bike's overall stability and performance.
The Genesis V2100 Mountain Bike boasts a range of high-quality components, including an aluminum MTB frame with 4 bar linkage, steel riser MTB handlebars, and Shimano derailleurs.
The black padded saddle offers comfort during longer rides, and the alloy micro-adjust seat post allows for quick height adjustments.
Other notable features of this bike include alloy black 26″ x 1.5″ rims, MTB 26″ x 2.1″ tires, and a reliable KMC chain.
The A-head TDS63K-8 EXT stem provides a secure and comfortable riding position. The bike is designed for riders with a height of 5'2″ and above, ensuring a suitable fit for a wide range of individuals.
Experience the thrill of off-road cycling with the Genesis V2100 Mountain Bike from Kent.
Its robust construction, smooth suspension, and reliable braking system make it the perfect companion for tackling any trail or rugged terrain.