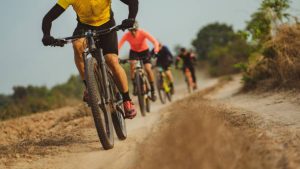 Basin Burnout General Information (Summit MTB Series)
Introduction:
Gear up for an electrifying adventure at the Summit Mountain Bike Series – Basin Burnout, scheduled to kick off on August 16, 2023, at 17:00 in the scenic Montezuma, Colorado.
This exhilarating event, hosted at the iconic Arapahoe Basin Ski Area, promises a heart-pounding experience like no other.
Brace yourself for a high-octane mountain biking showdown that will leave you breathless.
Also See:
Tahoe 100K Trail Run: A Guide to the Challenging Ultramarathon
Unveiling the Mountain Bikes With 26 Inch Wheels
Outroad Folding Mountain Bike 26 Inch: 21 Speed Full Suspension Bike Review
A New Chapter in Mountain Biking:
The Summit Mountain Challenge is back with Race #5, introducing the Basin Burnout as its centerpiece event.
Previously, the spotlight was on the Swan Mountain Rampage, but this year, the Basin Burnout promises even more adrenaline, excitement, and challenges.
Conquer the Trails: Beavers Loop and Wheels up DH:
Get ready for the ultimate thrill as you take on the newly unveiled Beavers Loop and Wheels up DH trails at Arapahoe Basin.
Picture yourself hurtling down the slopes, conquering challenging sections, and embracing the rush of the timed downhill course.
This is your chance to unleash your inner champion and experience the heart-racing sensation like never before.
Race Details: Registration and Number Pickup:
Plan to arrive early to secure your race essentials. Number plate pickup begins at 4:00 pm, giving you ample time to prepare for the upcoming action.
Season participants will hold onto their number plates, whether they signed up for the season or not, adding a touch of continuity to your racing experience.
Plate Management: Take Care and Conquer:
To all the Season Pass holders and MTB Junior Leaguers, please handle your number plates with care. Replacement plates will be available for $5.
It's advised to remove them between races to ensure they stay in top shape. For single race entrants, you can reuse your plate from earlier races this season, but avoid using plates from previous seasons.
Entry Fees and Registration:
Secure your spot on the starting line by registering in advance. For adults, pre-registered entry fees are $29, while day-of registration will be $35. Juniors (17 & Under) can participate for $20.
If you're aged 16-17, you may be eligible for an adult category discount; contact laurenv@townofbreckenridge.com for more information.
Registration is available online or as a day-of option, with cash, checks, and credit cards accepted.
Categories for Every Rider:
The Summit Mountain Bike Series – Basin Burnout caters to riders of all levels. With a diverse range of categories for both men and women, there's a place for everyone to showcase their skills and passion for mountain biking.
From Junior categories to Expert and Pro levels, the event encourages inclusivity and healthy competition.
Thrilling Course Options:
The Basin Burnout offers various course lengths, each designed to test your mettle and determination:
Basin Burnout Kids Course
A thrilling 2.16-mile route with 364 vertical feet, guaranteed to ignite a passion for mountain biking in young riders.
Start in the Early Riser Parking lot, traverse the Argentine North Fork Trail, climb, and finish back in the Parking Lot.
Basin Burnout Short Course
Embark on a 4.73-mile journey with 996 vertical feet. This trail is a thrilling blend of challenges and rewards, taking you through some of the most picturesque landscapes in the region.
Basin Burnout Long Course
For those seeking the ultimate test, the 8.5-mile trail with 1,893 vertical feet will push your limits and reward your determination.
Explore the Argentine North Fork Trail and conquer the heights for a truly unforgettable experience.
Race Day Schedule and Distances
The race day kicks off with Junior Boys and Girls (ages 10 & under and 11-12) taking on their respective courses, followed by older Juniors (ages 13-15).
The Short Course challenges kick in at 4:30 pm, catering to Junior Boys, Beginner Men, and Junior Girls.
The Long Course, the pinnacle of the event, begins at 5:00 pm, featuring Pro Open Men, Expert Men, and more.
Conclusion:
The Summit Mountain Bike Series Basin Burnout promises an adrenaline-charged adventure for riders of all levels.
With new trails, heart-pounding descents, and a spirit of camaraderie, this event is a must for anyone passionate about mountain biking. Don't miss your chance to conquer the Basin Burnout and unleash your inner champion.
For any inquiries, reach out to racebreck@townofbreckenridge.com and get ready to experience the thrill on August 16, 2023, at Arapahoe Basin Ski Area.