We've rounded up a collection of the 5 best mountain bikes for 50 year old men or men in their 50's. We hope you find your perfect bike here!
Here's a quick roundup of our favorites:
1. BEST MOUNTAIN BIKING EXPERIENCE AT ANY AGE:
Schwinn Bonafide Mens Mountain Bike
2. BEST FULL SUSPENSION MOUNTAIN BIKE FOR SENIOR RIDERS:
Mongoose Impasse Mens Mountain Bike
3. BEST E-MOUNTAIN BIKE:
ANCHEER Electric Mountain Bike
4. LIGHT-RIDING RUNNERS-UP:
Columbia KM One Hardtail Mountain Bike
5. Elifine Folding Electric Mountain Bike
The exciting new trend of bicycling among the younger generation is being quietly overshadowed by the silent explosion of adults in the big 5-0 category taking to the wheels. Adventure bike sports, especially mountain biking, are seeing a revival among the seniors like never before! This has led to one of the more curious developments during the COVID era – bicycles on a major back-order. So if you're on your own journey of a mid-life genesis, you know you need to hustle!
1. Schwinn Bonafide Mens Mountain Bike
29in aluminium mountain frame
Front Schwinn suspension fork
24 speed Shimano trigger shifters and Shimano front and rear derailleurs
Front and rear mechanical disc brakes
Durable Schwinn alloy cranks
29in wheels with double wall alloy rims: light+strong
2.25in knobby tires
5 year limited warranty
We love Schwinn's entry at number 1 for being a perfect entry-level bike for anyone trying out mountain biking for the first time. This 39 pound hardtail will give you a good run for your money, without emptying your wallet, and in fact puts together a pretty good set of features for this price bracket.
The 29in frame is lightweight and the bike comes equipped with the Schwinn front suspension, giving you a taste of their great technology. Rides are smoother with the combination of the fork and the front and rear mechanical disc brakes, which are high performance all-weather functioning brakes designed to slow or stop the bike quickly and easily.
Shimano EZ Fire 24-speed trigger shifters will have you handling uphill climbs and manoeuvers easily.
This bike has been designed for endurance and speed on the off-road trail with the double walled alloy wheel rims and the 2.25in tires. The unusual treads on the tires make for excellent traction.
With all these plusses, it is surprising that the saddle on the Schwinn Bonafide is less than perfect for a mountain biking experience. While it would not pose a problem on a leisure ride, it can get very uncomfortable on the long off-road rides where padding is necessary.
This can easily be solved by switching out the seats for a more professional seat without much investment.
Another 'Be Wary' point: product assembly is more hands on and may best be done by a professional, especially with the torque and tension setting.
Finally, replacement parts for this bike may not be found too easily on a local level, but ordering them online on websites like Amazon is an easy solution.
This bike is for you if you're in reasonably good health and want to take a serious stab at mountain biking. The speed and agility it works at will give you a foreshadow of what to expect in a high-end brand when you're ready to up your level.
2. Mongoose Impasse Mens Mountain Bike
29in aluminium suspension frame
29in alloy wheels
21 speed rear derailleurs with twist shifters
Front and rear no-slip Alloy disc brakes
Front and back suspension
Knobby tires
Mongoose's Impasse entry will give you a splendid experience/introduction to the mountain-biking experience, as well.
You get to encounter the dual suspension, with the added feature of the larger 29in knobby wheels – you get speed and great coverage all in one. With the SRAM twist shifters and the 21-speed Shimano Tourney rear derailleur, you get effortless gear-shifting as you conquer uphill territory, while the Element suspension fork absorbs the shocks and bumps on a rapidly changing track.
We love the large knobby wheels on the Impasse which make for good control and shock absorption, and the padded MTB seat has also received great reviews.
The bike makers have balanced the big wheel size with their choice of frame and wheel metals, so that the overall weight stays down. At 44 pounds the bike is still on the heavier side, but that doesn't affect the overall riding experience.
The package comes with a hefty owner's manual, and you may have to sift through for model-specific instructions. The bike isn't too difficult to put together, but if you're not too technically gifted, you may want to pay a professional to get it done, especially when it comes to the disc brakes.
3. Columbia KM One Hardtail Mountain Bike
Well-packaged product – important for avoiding damage during shipping
Budget-friendly
Lightweight, durable aluminium frame
Responsive back and front mechanical brakes
Shimano 24 speed EZ-Fire Plus EF-51 gear shifters
Front suspension fork
19in frame with 32in standover height: best suited to riders 5'10" to 6'8" in height
Double walled rims and 26"X2.1" Kendal tires
Bespoke Columbia MTB saddle
If you're someone at average fitness and don't have any other health issues, you could start out like other newbies with a standard hardtail. The KM One is a fantastic place to start your mountain biking adventure.
There is A LOT in this mountain bike that speaks to the love Columbia has put into it. At the advertised price you get several higher-end features that other competitors have failed to include.
We want to start with packaging: the double-boxed security that Columbia secures the bike in kicks its ratings up WAY higher than at least 90% of its competitors. This should be your first consideration when buying a product with a lot of movable parts online. This is one of the few brands that have had excellent reviews for packaging. Customers have almost always received the main frame and its components (mostly 80% assembled) in good shape.
Other than that, this is a great bike to start out on adventure biking because of the lightweight frame, the small, tight 26" wheels (replaceable), the better-than-average saddle and the responsive mechanical brakes. These will keep you secure and give you the confidence you need to start out – great plus points when you're a little older.
The custom-made saddle provides a good amount of comfort, though you might require a little more padding and contouring if you are on the heavier side.
The user's manual gives you clear and simple instructions to put everything together, and there isn't much labour involved.
Another plus-point here is the KM One's versatility. With a few minor replacements, such as the bike wheels and saddle, this turns into a high-market mountain with a lot to offer. It can be easily used on paved bike paths as well as off-road mountain paths. This is a great way to see where you want to go with mountain biking. The low price point and the exceptional quality of this bike makes it a sure winner as anyone's first time bike, especially when you're making a new venture at that later point in your life!
On the other hand, this is a hardtail mountain bike, meaning it comes with a suspension fork for the front wheels, which works great if you're reasonably fit. But if you're harbouring anything like knee or back issues, or if you're on the heavier side, or even if you are looking for something a little more adventurous, read on to the next entry for a full-suspension bike.
4. ANCHEER Electric Mountain Bike
500W high-speed brushless motor
10 AH removable Lithium-ion battery
Upgraded LCD display
Professional 21 speed Shimano gears
High-strength carbon steel shock absorbing fork
Front and rear disc brakes
26in wheels
50lbs weight
Ancheer has a wonderful entry in the electric mountain bike category. If you want the experience of adventure biking without the hassle that goes with it, this bike is definitely worth your consideration.
You have the choice of three modes: full assist, pedal assist, and full pedal – at your disposal. You can switch back and forth, depending on terrain and your levels of energy.
The manufacturers have covered a lot of pointers to make sure their product is versatile. The aluminium alloy frame makes the bike lightweight, yet strong. The professional 21-speed Shimano gears increase your climbing power, with better range variation and terrain adaptability. These are complemented with the powerful 500W motor and the 10Ah Lithium-ion battery that comes with a charger. Each charge is said to give you 22 miles of cycling assist. Keep everything in check on the upgraded LCD screen fitted on the handlebars.
With the high-strength carbon steel shock-absorbing fork over 26in wheels, you will be flying up hills, down steep declines and bumpy rock gardens. All weather mechanical front and rear disc brakes give you the confidence of effective stopping power.
The packaging on the bike is pretty secure. It comes 80% assembled, and while the instructional video makes things simple, you have the option of asking for further assistance in assembling the product.
5. Elifine Folding Electric Mountain Bike
Aluminium alloy frame
High strength carbon steel front suspension fork
Double layer aluminium alloy wheel
Lightweight 25kg
26in anti-slip, wear-resistant wheels
Front and rear disc brakes
21-speed gears
FEATURE: Eco-friendly 8Ah Lithium-ion battery with smart charger for fast charging
FEATURE: fold and store super-feature
Load capacity: 330lb
250W high speed brushless gear motor
The final entry on our list is the Elifine foldable e-mountain bike. Though on the feather-lite side, the Elifine packs in quite the punch. At half the weight of the Ancheer e-bike, this gray beauty may not be suited to intermediate and advanced mountain biking, but it is perfect for light off-road fun, even featuring 26in anti-slip tires, disc brakes and a high-strength carbon steel suspension fork in the front.
The 3-mode working feature can be tweaked to your liking for a fully customised riding experience.
The surprising detail of a removable eco-friendly 8Ah Lithium-ion battery with a fast-charging smart charger and the foldable frame are very attractive features for this price point.
With a load capacity of 330lbs this is a great offering for you if you are on the heavier side.
Overall Best Mountain Bikes for 50 year Old Men
Top Pick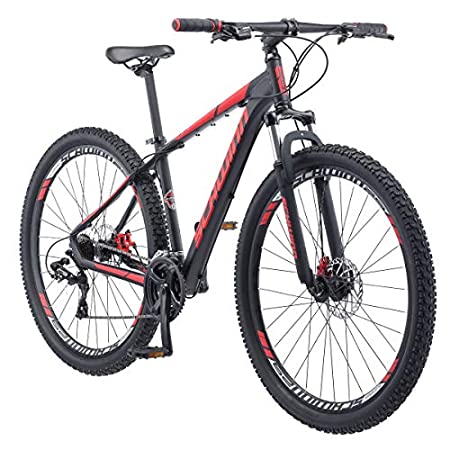 OUR PICK:
Schwinn Bonafide Mens Mountain Bike
All 5 bikes featured here will give you a wonderful experience in mountain biking, but the Schwinn Bonafide Mens Mountain Bike is our favorite entry on the list with features closest to what you can expect on a full-feature bike.
For a similar experience with a bit more cushioning, the Mongoose Impasse Mens Mountain Bike with dual suspension will be your best bet.
Finally, if you are hopping on the saddle after a long break and fear that your health may not hold up to a lot of pedalling or bumping around, use the ANCHEER Electric Mountain Bike for the same experience, with a little help. You'll be glad you made the leap!
BUYER'S GUIDE
When you're looking for a mountain bike a little later in life, especially if you've been out of touch, here are a few things to keep in mind:
Research before you buy! Buying from well-known brands is always safer than buying from the lesser known ones. Also, fitting the bike to your own body stats is very important, especially in mountain bikes!
ALWAYS read the reviews! There's a ton of information reviewers give that can prove valuable to you.
Research brands that are conscious about packaging their products right! Many good products suffer damage during shipping and transit because of poor packaging.
It may be a good idea to pay someone to put your bike together, unless you're expressly confident of your own skills. Several details like tension and torque need a professional hand to tweak it just right.
Many entry-level bikes can be customised by replacing a few features like the saddle and wheels at very little cost to give you a higher-end bike. Choose your bike accordingly.
Here are a few tips to maximise your experience on your mountain biking adventure:
It's OK to start small. You can then build up!

You'll probably find yourself going through at least 2 bikes before you find the one! Give yourself room to grow into the sport.

Don't worry too much about the debate on the authenticity of the e-mountain bike!

You get what you need and make your own way!

Find a club or group you can be a part of if you think you might need a little support starting up. Mountain biker groups are known to be among the most accepting people.
Keep your doctor fully in the know about your new sport and follow their or a sport-and-health expert's advice on rest, nutrition, training and scaling up.
Surprise yourself once in a while and hitch on to a group of faster, more advanced riders. It'll give you a standard to build towards.
Mountain biking can be one of the most rewarding experiences you'll have, especially as you zip through your 5-0s. While many bikers start young, the rising trend of older racers entering the field is adding to the excitement on the field. Mountain biking forums show members way past their 70s at highly advanced levels, with no sign of stopping anytime soon!
So hop on, and conquer!
FREQUENTLY ASKED QUESTIONS
What is a mountain bicycle?
Great question! A mountain bicycle is a bike designed for off-road adventure, best identified by their design, build, and features.
What is the best bike for an older person?
Our list of 5 best mountain bikes for 50 year old men gives you a good range of mountain bikes to consider. For higher-end, more professional models, it is best to go to your local bike store and get yourself fitted out.
Are older mountain bikes still good?
Older mountain bikes have their plus points, as well as their downsides, but it is important to remember that a lot has changed, even over the last 6 years. If you're buying a used older model, do consider that a mountain bike is meant for rough use, and may be dredging a lot of wear and tear.
Another point: you may not get spares on anything as most stores move on pretty quickly and are eager to 'out with the old, in with the new' with their stock every year.
Finally, as an older rider you may want to invest in the latest for greater safety and comfort, unless you're in the best of health.
Do bicycle products have warranty policies?
Many of them do. This is information that will be clearly mentioned on packaging and websites of the products you consider buying and should form an important part of your research.
What is the best mountain bike for a big guy?
Schwinn and Mongoose brands mentioned here have the best MTBs for bigger men. Check out 2 of their best here:
CONCLUSION
The 50s are a great time to reconsider life and take a good stab at improving fitness and mental health in preparation for the slower years to come. A lot of research has shown that extreme sports like mountain biking fire off multiple positive developments in health and state of mind at this time of life.
The shifting psychology of men at 50 going through a 'midlife genesis' instead of the proverbial 'mid-life crisis' is a heartening change. If you find yourself a part of this shifting mind-frame, you are in for the most exciting part of your life yet! Go out there and conquer some mountains!